Why am I doing another Guinness World Record?
Five years ago, and during the most atrocious conditions in the history of the Ride London 100, I acquired the Guinness Record for the 'most brands advertised on a single sportswear item', with 110 sponsored logos. As this record has now been broken by the Tour de OROC consortium from Australia, we are keen to reclaim our record!
As an Autistic Ambassador for the National Autistic Society, I want autistic people to be better "accepted and understood" by society around us. One of the biggest areas of inequality is employment, where only just 16% of us are in full-time work. The purpose of this record attempt is to show the positive and exciting contribution, that autistic people like myself, can make to those who know us, work with us and to the wider society.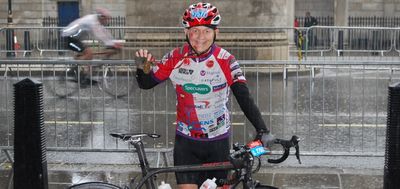 How we aim to break this record?
We are aiming to break this record, during 2020's London Marathon, I hope the interest in this event will give me lots of opportunities to talk about autism, particularly in the media.
How you can help us break this record?
It is simple. I'm looking for businesses and organisations to sponsor me, so I can advertise their branded logo on my shirt when I run the London Marathon. All the funds raised will go to the National Autistic Society but the main aim of this is to increase public understanding and support of autism.
All that is required is a good quality jpeg or gif image of your logo, together with confirmation that you are supporting us with this Guinness World Record and the payment of course (which can be made in a number of ways). I can of course give you an invoice/receipt of payment for your records and you will also be entitled to purchase a copy of a Guinness World Record certificate with the name of your organisation.
Contact and follow